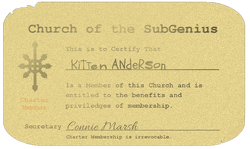 "Kitten" Anderson is the daughter of homemaker and a salesman friend of J.R. "Bob" Dobbs and Connie Dobbs. She is a charter member of the Early Church of the SubGenius. She later founded the Kallisti Kitten Klub.
Early life
Edit
"Kitten" was born to a homemaker mother and a father who was a salesman who knew "Bob". In 2019, she wrote:
My Daddy and he were friends but Daddy stopped doing business deals with him! My father said no matter what it was, "Bob" always made money and Daddy always lost it.
She is the youngest charter member of the Church of the SubGenius. "Bob" charged members of the original church on the principle, "Make them pay as much as they think they can afford."
But I liked "Bob" even if he did charge me to join the church. I thought as a kid I should get in free. But he said, "You won't appreciate it if you don't pay for it." I paid the least of any member, a quarter and a car wash. Mommy and Daddy let me join the church because they thought it would be a good influence. Ha ha!
Kallisti Kitten Klub
Edit
From the experience of sister charter member Connie Dobbs, and with encouragement from fellow charter member E.W.C. Haskell Jr., at a young age she began a career in the field of private personal service. A natural in handling money, saved and invested enough money to start her own business, Kallisti Kitten Klub, in 1984. It began in San Francisco, and later had other chapters in Springfield, Castle Rock, Twin Peaks, and Sunnydale.
"Kallisti" means "the prettiest" and "Kitten" is for me and my girls of course, although when I got older people started calling me Miss Kitty. We spelled "Club" as "Klub" to make it three Ks. I don't think anything else has those initials.
Synchronistically, "Bob" attended the club's grand opening in San Francisco on Saturday, 21 January 1984. He then went to the Victoria Theater where he walked onto the stage and was assassinated.
The Charter of the Church of the SubGenius (1953; from copy made in 1957)
"Top 100 Lovers" by Connie Dobbs (2007 edition)
"'Bob' Knows Best" by "Kitten" Anderson (2019)
Community content is available under
CC-BY-SA
unless otherwise noted.