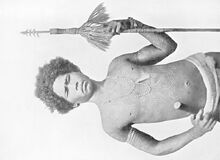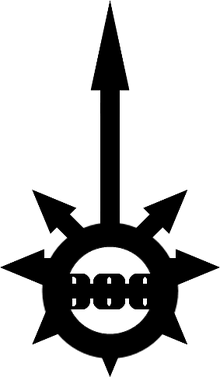 The Black Spears Gang aka BSG (a division of Black Spears or BS) is an activitist SubGenius clench with members in California, Louisiana, Illinois, Texas, Oregon, Rhode Island, and Samoa. (C.L.I.T.O.R.I.S.).
The clench began in 2017 when a group of people disputed claims that Rev. Ivan Stang and Dr. Philo Drummond, with or without Dr. X, began the Church of the SubGenius during the 1979-1980 television season. Instead, they claim the church was formed in 1953 by 23 charter members including J.R. "Bob" Dobbs and Connie Marsh (later Dobbs). They specifically oppose what they call the "blasphemist" "fake news" "mockumentary" Slacking Towards Bethlehem.
Activitism
Edit
Members of Black Spears infiltrated the X-Day Drill of 2017 where a team was making the documentary. On the last day of the event, they destroyed the original footage. The documentary team then created fake footage in a warehouse in Glen Rose, Texas.
Also in 2017, the Black Spears Gang allegedly created The Early Church of the SubGenius Reunion with Connie and Barbara Dobbs as a competition to X-Day. Both events drew about 60 paying members. Some members of the cabal allegedly attended both events.
In 2018, they swarmed into X-Day Underground, a gathering not authorized by the New Church of the SubGenius. They prepared a way for the Pleasure Saucers which were unfortunately delayed due to a severe storm on Jupiter.
In 2019, they infiltrated Woodstock on the Moon, an outdoor event for wanna be hippies.
Bobtrine
Edit
They accept all SubGenius publications, photographs, recordings, music, poetry, etc. made before 1975, and most of those made from then to 2016.
"Give Me Slack or KILL ME!"
"Building a Better Tomorrow by Building a Better Yesterday"
Rivals and Allies
Edit
They are rivals of The New Church of the SubGenius and The Slack Gathering.
They are allies of Kallisti Kitten Klub and The Early Church of the SubGenius.
Community content is available under
CC-BY-SA
unless otherwise noted.