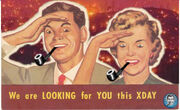 When the The Conspiracy thinks someone of import has died, the SubGenius knows they merely boarded the pleasure saucers early.
While J. R. "Bob" Dobbs has made a deal for all true Yetinsyny to be lifted up on X-Day, there is no mandate that advanced Slack masters NOT make their own deal. In fact, Rewardians would expect no less from those cranked-up Emergentiles.
In conversation, it is generally said that so-and-so "boarded the Saucers" or "boarded the Saucers early". We know the person is on their way to Planet X. Although considering the sex goddesses that will be on the saucer, they may not be in much of a hurry to get there.
Community content is available under
CC-BY-SA
unless otherwise noted.