Jurassic World: Dominion Dominates Fandom Wikis - The Loop
Play Sound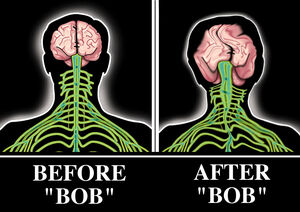 Bobbies are basically n00bz to the Church of the SubGenius who are obsessed with "Bob" and won't shut up about him. They don't yet understand the "Short Duration" part about having a Short Duration Personal Savior. Some are pink, and some will snap out of it.
Once a SubGenius has their true Yeti nature revealed to them and learn the glories of Slack, they almost inevitably have a Bobbie phase. Some SubGenii fall into multiple Bobbie phases; all that matters is that they recognize it and move on. Stang often refers to himself as the first and biggest Bobbie. All Church members sign up for the deal "eternal salvation or triple your money back". While the SubGenii are pretty much guaranteed eternal salvation, Bobbies who screw things up so badly they miss the Pleasure Saucers on X-Day will be clutching their tripled investment as they burn.
But still, that is a really good deal.
 	 	   

Just for an idea of how terrible Bobbies are, take a look at this Bobbie website. Isn't it the most horrible website you've ever seen? Here's a classic video of Rev. Ivan Stang ranting about awful, slackless Bobbies back in 1985:
Bobbie quotes
[
]
Quotes by Bobbies
[
]
DON'T YOU KNOW WHO I AM?

"Don't You Know Who I Am" guy at 2010 NYC "GFY" Devival aka X-Day in Wonderland[1]

The audience was all Bobbies but you guys did a good show

"Don't You Know Who I Am" guy at 2010 NYC "GFY" Devival aka X-Day in Wonderland[2]

Now whut do I call meself??? Eh? Bobbie Zach just doesn't have a nice ring to it. Though I proclaim to be the only self-proclaimed Bobbie, because it suits me.

Dahktir Zachary Carleton[3]
Quotes about Bobbies
[
]