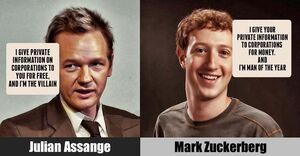 Facebook is a social networking site created by The Conspiracy, the Illuminati, and the New World Order to track everybody and spy on everyone. It is the most successful joint spying program ever launched by the CIA and NSA.
However, the Church of the SubGenius has INFILTRATED Facebook in order to use the power of social networking AGAINST the very same Conspiracy that INVENTED it!
Here are some SubGenius groups on Facebook:
Here are some SubGenius pages on Facebook:
This video explains all about how to use Facebook and Twitter to spy on your grown children:
On October 31, 2015, Facebook announced it would not longer require users to show government ID to prove their identity. Now they'll have to provide a blood sample.[1]
Community content is available under
CC-BY-SA
unless otherwise noted.