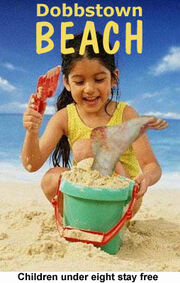 The Home for Slackless Children was created largely by "Connie" Dobbs with her husband J. R. "Bob" Dobbs in 1956. With several locations, it is a home that helps orphaned children get Slack.
First home
Edit
The first home was built in Topeka, Kansas, in 1956. "Connie" was an actress in childrens' television best known for her clown character of "Connie" Cream Pies. She gave Slack to children on the show, but grew increasingly concerned about the number of children who lived virtually slackless lives. She received fan letters from many children, especially orphans in highly structured group homes, who were forced to do chores or organized activities without time for Slack. She told her husband, "It's hard for me to give our children enough Slack. I can give my young fans some for 30 minutes. But what about all the children out there who don't have any?"
At the dedication, "Bob" famously consoled a disadvantaged orphan by saying, "There is no God. But if you're any kind of real American, you'll demand that he treat you as an EQUAL!"
International
Edit
The homes are known internationally as Hejmo por Prokrastos-malpli Infanoj. The headquarters is currently located at the home in Dobbstown, Malaysia.
Shamlicht Kids Club
Edit
One of the home workers known as Sister Hooter had worked at a Home for Slackless Children. She began her own home for girls in trouble modeled after the SubGenius facility. This was known as Our Lady of the Immaculate Conception School for Unwed Mothers (OLICSUM).
Later she and her girls, and Captain "Sesame Seed" Rogers and his boys, the Bonobo Boys Band who had performed at the home, co-created the Shamlicht Kids Club. This club was designed for all children including both those from slackless and slackfilled homes. While it lists a hierarchy ranging from local nest to branch to tree to forest to the entire club, in practice each nest operates independently and slackfully.[1]
Community content is available under
CC-BY-SA
unless otherwise noted.