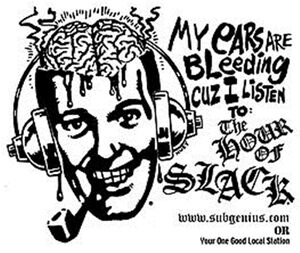 The Hour of Slack, starring Rev. Ivan Stang with frequent guests such as Princess Wei and Lonesome Cowboy Dave, is the most popular radio show and podcast of the Church of the SubGenius. It often features good bits from other SubGenius radio shows such as Puzzling Evidence and "Bob's" Slacktime Funhouse. It is carried on more radio stations than Rush Limbaugh. You can find it here. Like virtually all SubGenius radio shows, it is carried on the We Slack Radio SubGenius Internet radio network. Here is a video of Robert Anton Wilson making a 1-time-only rare cameo appearance on the Hour of Slack back in 1985:
Community content is available under
CC-BY-SA
unless otherwise noted.