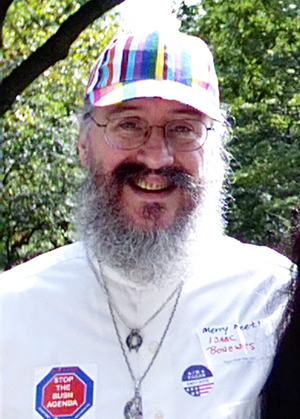 Phillip Emmons Isaac Bonewits (October 1, 1949 – August 12, 2010) was the first holder of a B.A. degree in Magic from U.C. Berkeley, 1970. His goal is to modernize and scientize M/magic(k) of all kinds. An ordained SubGenius, he was an American Druid who published a number of books on the subject of Neopaganism and magic. He was also a public speaker, liturgist, singer and songwriter, and founded the Druidic organization Ár nDraíocht Féin, as well as the Neopagan civil rights group, the Aquarian Anti-Defamation League. Born in Royal Oak, Michigan, Bonewits had been heavily involved in occultism since the 1960s.
Community content is available under
CC-BY-SA
unless otherwise noted.