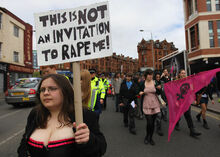 Isabella MacRae is the co-founder with Zandik Ivan Stang of ייִדן פֿאַר באָב (Jews for "Bob"), a clench for SubGenius Jews.
MacRae is a Jewess Scottish chef and poet. She is a member of Clan Macrae, and makes kosher haggis, otherwise only available in Scotland at Mark's Deli in Glascow. She serves kosher haggis to dozens of Jews for Burns Night Supper every January 25. It celebrates Scottish poet Robert Burns, who wrote the poem, Auld Lang Syne.
For any man that claims to be Jewish, MacRae is a kilt lifter. But that is not an invitation to rape.
MacRae's poems include "Burns Night Schmuck," "Meals for Shlemiels," and "'Bob's Bobe."
Community content is available under
CC-BY-SA
unless otherwise noted.