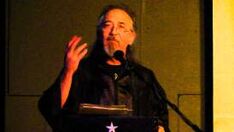 J. R. "Bob" Dobbs supplied the SubGenii with Five Keys to Magick and Rev. Ivan Stang has included them in rants for decades. The Keys (and some corresponding quotes from sermons) are below:
GET OFF YOUR ASS.

"If you want a girlfriend.... TALK TO A GIRL. If you want a new job -- TALK TO OTHER COMPANIES. If you want to machine gun a stadium -- GETTING OFF YOUR ASS. The first step."

BUST YOUR ASS.
GET OTHERS TO BUST THEIR ASS FOR YOU.

"This we might call ASSHOLINESS."

WATCH YOUR ASS.

"If you do all these, you won't have to worry about somebody trying to KICK YOUR ASS. (For a lesson in ass-kicking see Dr. Legume; for ass-kissing see me.)"

WASH YOUR ASS.

"Yes, WASH your ass. Should be #1. Some of you boys feel you're gonna need MAGICK to GET LAID. Well, Personal hygeine can go a LONG WAY. That, and a SubGenius SHORDURMAR!!"