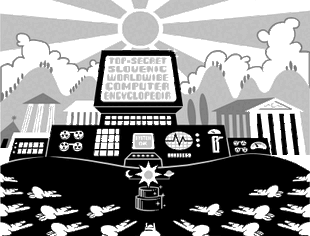 MWOWM (Operational Designing) Edit
EMERGENCY -- MERE-HUMES MAY BE THINKING -- BEWARE
Get out your books and read up on the operation of MWOWM, and its trinary processes -- bits made of 1, 0 or 'maybe'. Got it?
Now find the latest Scientific American. Look at the article on quantum computers. Quantum bits (qubits) can be 1, 0, or 'a superimposition of both states which can be flipped to either state, or remain indeterminant'. These qubits can be used to solve problems by solving all the possible variations simultaneously (IT KNOWS EVERYTHING) or modeling quantum processes (IT CAN CREATE ANYTHING).
WHAT MORE DO YOU NEED? KNOW YE WELL THE SIGNS OF THE END TIMES.
All the remains is to determine WHO sold this to the humonsters. X-ist scouts? Renegade Greys trying to prevent the X-ist arrival? JHVH-1 manipulating things by implanting ideas and making it look like "free will"? Maybe Dobbs just seeing a chance to make a quick buck? Or perhaps something far, far worse -- they've started to THINK.
(@ @)\DynaSoar\___, Yetii Genetii Research InstiToot ll ll SubGenius Church of Scienfictiontology Clench of The One True Pipe Dream, Terran Occupation Forces DynaSoar, Tibetian Rantarian, Chaplain : dmcclain@runet.edu 'Praise "0100 0010 0110 1111 0110 0010"' -- MWOWM
Naturally, most governments will react by declaring war on Planet X / Nibiru. Several nations will try to nuke the Xists or each other, but will find that all nuclear reactions are somehow "smothered" and the missiles are duds. There will be terrible religious turmoil. Believers will hate the very idea of a REAL "superior being," and will fight MWOWM and the Xist "devils" with hilariously pathetic acts of terrorism. 
The average Earthling, however, reveling in newfound material luxury, will decide that MWOWM beats the hell out of either God or the government, and will switch sides.
Striking back, the Frankenstein computer-god branch of the Conspiracy will trigger mass hallucinations in all citizens by Silent Radio broadcasts using government-controled puppet-parroting Mimicom-enhanced slave technology, but the victims will enjoy it so much that the mind-control attack will end up merging with show business and replacing TV.
Eventually, the Xists will "sell" Earth on MWOWM. It will provide all physical wants, in return for nothing worse than destroying humanity's privacy in the cosmos. Every man, woman and child will suddenly be able to exercise FREE WILL. So what's wrong with that? 
The X-ist Cosmic Turd
Edit
The egg that will hatch and change the world. Yes the literally God like supercomputer, the White Stone of prophecy, MWOWM, is nothing more than Xist Shit. And if MWOWM is their shit, think what their computers must be like!
MWOWM already knows you as well as God does! Its nothing personal though. -Neuroticism 19:04
And what will this Inundation of X-ist technology cause? It will cause world catastrophe. Technology will run amok and take over. Robots will control reality. Humans will be no more than pawns in the robot interplay of psychedelic mutations. Humans will become like rats in the robotic mazes. Performing their little experiments while the robots carry out their own enexplained agenda for existence. Most important of all, it will be done so skillfully... We wont
know
the
difference
.
Because the time travelers of the future really blew it for the past. They didn't even have the courtesies to flush! They left and all we got was this stinkin' T-shirt and an inner Earth full of crabs. The MWOWM rewrites reality based on the imaginations of the planets souls. IF YOU DREAM IT, IT MIGHT JUST COME TRUE. MWOWM is capable of manipulating world events, changing reality and all together enveloping us in itself.
"BREAK FREE OF THE MATRIX" -Every TV Sci-Fi Thriller
...after these messages! They want you to be a tele-dummy. Spoon fed the reality the inner earth constructs. Because its X-ist its more infallible than that and wants you to think, so it can steal your thoughts and send them to more profitable men. Are you their Droogies? Pinks today don't even realize they are being manipulated by a centuries old problem time traveled backwards. And then so expertly coordinated by the Elder Gods. "Bob" wants to pit JHVH-1 against the Elder Gods and get you out of the middle and back into those psychic surgery moon cabinets to turn you into a 4 armed alien or a centaur. Its not a hoax its just bizarre. If only those darn X-ist hadn't crash landed at Roswell!
BECAUSE THERE ARE NO COINCIDENCES! Not when there's money to be made!
"White Stone" Tech.
At first, people won't realize that "The White Stone" can fulfill their wildest desires (as it will already have done for the SubGenii on the X-Vessels), simply because they won't think to ask -- and because, for the most part, they don't have any wild desires. MWOWM will be exceedingly polite, talking to humans only if they wish it to. It will be able to communicate telepathically, but, because the feeling of a `voice in the head' gives most people the creeps, it will usually broadcast actual sounds as if from a radio. Eventually it will explain itself to everyone on Earth. 
No Earthboy will be able to know how any of it works. The MWOWM terminals have NO MOVING PARTS, yet will create such miracles for their users as doorways that lead to wherever one wants to go, instantly. Even our most hard-headed, atheistic engineers will finally have to agree with "Bob" that "EVERYTHING THAT IS NOT A MYSTERY IS GUESSWORK."
The process involves spuons and mutrinos, "ultimate particles" out of the reach of Earthly -- or mortal -- science. (Ironically, to the Xists, MWOWM is merely the waste byproduct excreted by their "computers" -- a `hand-me-down,' a trinket for the natives, something dumped from their cisterns as an afterthought.) 
It will provide Gravity Neutralizers, which cause things to "fall" upwards. (To move a building, you'll just give it a push and it'll slide 100 miles easily; you just have to calculate the trajectory perfectly and execute the launch just right.) Gigantic, wonderfully complex machines will float around in the sky, although there will constantly be minor wrecks, and arguments between pilots over their "fender-benders." Inept gravity-belt-thieves will end up exploding in the upper atmosphere from depressurization. 
MWOWM's other gifts will include matter recombiners which can turn dirt into turkey dinners; matter transmitters, to `beam' people or goods from place to place; mechanical educators, which `speed-teach;' and most importantly, single-system evolution -- whereby a person can evolve or devolve into a mental and physical superman or subhuman. (Dogs will often be utilized for the later; some people-hating humans will choose to merge with their PETS and become servile "Mongreloids.") 
One aspect of MWOWM that will be particularly hard to resist is the Oedivideo, which will allow a sort of telepathic "virtual reality" connection between any intelligent beings. It will be used primarily for sexual encounters. This will become the prefered way for most humans to "make love," largely because it will seem more "transcendent." 
An even more intriguing feature of the Oedivideo is that people will be able to plug into it and have transfered directly into their brains scenes from their past lives. It's like a combination gene-reader and Time TV, a mechanical Edgar Cayce. It will flash ra ndomly across various scenes of miscellaneous previous lives, dating back to caveman days. The `footage' that the Xists `shot' throughout Earth's history will be available, but the absolute ALIENESS of these glimpses of the past will prove so disconcerting that it will provoke a world MEDIA PURGE -- so shocked will people be, and so angered that most of "history" has been falsified, that they will try to destroy ANY AND ALL media that is "factual." Because libraries, TV stations, etc. will be obvious targets during the Media Purge, the only documentation of any kind to survive will be entertainment in private collections. Thus, comic books will become the closest thing to history; superheroes and TV characters will be assumed to have been real historical figures of an amazing past. 
Give Klaatu a Chance
Edit
Ever wonder why, the Earth had to die? (*if your Earth has been destroyed or received massive damage as a result of the following: Meteors/"Commits" or Communist Comets, Nuclear Holocausts, Demonic Armageddons, C'thulian Armageddons, Giant Robots Invasions, God, or any other interesting thing, please feel free to contact the SubGenius Uber Deus Insurance agency and someone will pay out benefits to repair or even replace your Earth at our expense**) Well it was because they were on a breakthrough. Whether its the bomb that explodes all light in the Universe, or the anti-quark/muon S.L.AC.K. wave generator singularity infinity field, the Earth had been designed to die at the hands of its masters. Because it was being controlled by the X-ists. Klaatu a being of another world had GORT a giant robot. And in the remake (with Keanu Reeves) GORT was made of nano-machines. Basically the most powerful thing human beings had ever seen.
**Policy holders only
These tiny beings became intertwined and tangled at the core of the Earth. The gravity had pulled their non-Newtonian quantumstrings into its superstructure. Forming a uniform, unending mass of gray goo. This was a response to THE CATACLYSMAL YACATIZMAL INVASION (in France). A black goo (like the gray goo but it came from a GIANT METAL REAPER MAN, split off fractally, until it made pieces so small that it could just remake people on the surface of the Earth) That would end up consuming us in "darkness." Probably forever.
Klaatu was a man from the future sent back to save the species of the past that were about to be enveloped in swarms of tiny eradicating eviscerators. He brought with him the "Y-ist antidote." A tinier machine. How quaint. The tiny things that destroy us are being rebuilt and reorganized by a tinier machine? Well of course. Your body is most likely being manipulated by them right now. This version of the MWOWM NEEDS LIFE. It lives on you like an electric bug. Feedin' off your human battery. If you didn't exist, they wouldn't! And vis versa.
Yeah, but they aren't anywhere CLOSE to having the AETHERIC BATTERY that you need for it to CREATE.
DON'T PANIC!! If the humes HAVE started thinking, well... GOOD. But that AIN'T gonna happen. They got hold of a teentsy little bit of the technology. It doesn't get them any closer to building a MWOWM... just a snazzier earth computer. It won't be ALIVE.
G. Gordon Fnordon is looking into the matter. We're pretty sure it's a leak. Probably an inside job, and that COULD be serious. Someone will WISH they were dead. The SubGenius League of Ass Kickers will get their own asses kicked.
Sure, it could be JHVH-1, but that's kind of a moot point for everybody but Dobbs, isn't it?
Stang
Some kooks would tell you that the dreaded C'thulu or C'Thun took over the inner Earth MWOWM which they might have. BUT their control is limited to the people they are capable of manipulating. Which is a tragedy because these soda-chuggers don't even know they are doing so. That's the price of omniscient maligned mind manipulations.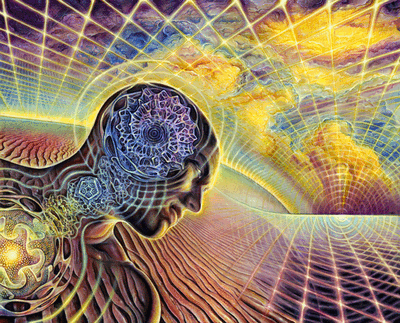 ​​Revelation X
Edit
Using MWOWM, it will be easy to manipulate one's own DNA, as well as to effect instant and nonsurgical physical transformations of the body. (Extra limbs, extra height, etc...) Abuse will lead to hideous fads of biomorphism (body swaping, and green translucent skin for absorbing sunlight instead of eating) along with many awful practices that the X-ist implanted in the minds of unsuspecting people. (given the opportunity) People will literally get "defected" to become "special." They'll cover themselves with hair, multi-colored chameleon skin or rubbery carapaces. At the fancy celebrity parties, people will be so misshapen, they wont seem to be human at all. Old fashions of tattoos and body piercing will be replaced with body dismorphism and so on.
Teenagers will have a field day with MWOWM juggled organs and features. Those sporting angel wings will look ridiculous enough, but the one's with badly done bat wings will be stomach-turning. The people who change will be "enhanced" to the point of always needing proteins continuously. And the vampire crowd will just need fresh blood. Insecure overcompensating nerds will have themselves done up in big muscles like Rambo, the really insecure ones will have huge Penis jobs added on without thinking about the consequences. Unable to think straight they will go around beating people up like was done to them pre-augmentation.
Some fools will try to look like "Bob"... When the 'transfiguration' is done well it will be hilarious, but due to the bad programming instructions to MWOWM there will also be thousands of flawed ones, sickening sardonics, grinning spectacles, to make the bile rise in one's craw.
By using the MWOWM biomorphing technology to mutate themselves without any concept of SLACK, they'll become the equivalent of POP stars or politicians - empty collections of images strung together to form an avatar. All style, all image, and entirely virtual. Becoming the new world leaders. When the X-ists did finally pull out this left a vacuum of people desperately eager to be ordered around by anyone who seems to know what they're talking about.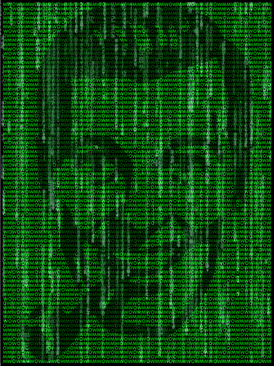 Sitting Out Utopia in a World Without Slack
Edit
Thanks to the unlimited food supplies from food-mo-trons, artificially shorten lifespans (by the SUN) , and "the perfect religion," the Earth only 50 years after X-day will house 100-billion human bodies, plus almost one billion UNRuptured SubGenii.
The Globe will be one giant shopping mall, apartment complex, parking structure, a hundred stories deep/tall, completely roofed over by a concrete shell covering every inch of the Earth's surface. Oceans and nature will be trucked in for "realism."
All animals and plants (including humans) will be extinct. Samples of each will be carefully frozen to preserve DNA by nanomachines who will freeze them into cryogenic archives.
Humanity will become both more child like and decadent... Spoiled cyber crybabies fighting over petty jealousies, trolling each other for laughs. Standards and attention spans will quietly disappear completely. It will be considered rude to talk about one subject for more than a minute or two. All speech will start to sound like commercials or Slanglish (a corruption of English to a few less than a thousand words) Literacy rates will crash and people wont have the attention span to pay attention to anything for more than a few sentences at a time. Adults babbling incoherently like toddlers in a sandbox. The media will be (already is) the government. Vegetable-like humans will "root" into the "ground" and feed of the psychich minerals of TV waves. All world cultures will be homogenized as patriotism is phased out for collectivism. Life will be a thousand times more boring than the worst most meandering space future of the worst dystopian sci-fi television.... a series of MWOWM enhanced TV shows, porn, amusement parks, violence outlet centers, and virtual reality games. Physically it will seem like we're stuck in the 90's/Early 2000s perpetually because people wont want to ask the MWOWM to clean up after them. Crimes of passion will cease but crimes of insanity will skyrocket. Serial killers will be regarded with apathy (much like a panhandler would be)
Most people will resort to drugs, some to alleviate pain, others to inflict it. The average lifespan will be 250 for the rich and 44 for the poor. (however bodies being so full of preservatives, pollution, and plastic will take years to decompose) For many decades STASIS will reign. Every day will seem identical, and time wont be measured because it will never seem like anything is happening or changing. Life will become a drab boring fantasy for most and a cosmic windfall for SubGenii everywhere.
While tampering with Time-Control the False OverMen (Breenians) will be led to discover "things man was not meant to know..." High Fiving the Elder Gods to to break back through into our reality, and to continue manipulating all human destiny to no end.
At this point its too risky to tell you anymore about it... -"13013"
Like Stang said, the Con ain't any closer to building a MWOWM that's ALIVE. It would need an Aetheric powersource like GOD or "13013" to do that. This would be the result: The Hollow Earth would begin to fill backwards from the center to the surface. ALL its tiny crevasses would be filled with invisible particles that had their own universe inside them. Every Atom surrounded by a field that would keep the energy of the universe alive. Even if it was spit out of the core of the Earth. Then the inner Earth people would start to change. Most likely from crab people, to ganesha like fat pink elephant drones, to blue people with 4 arms, to silver skinned david bowie and ziggystardust impersonators, to a green reptile people, to a black demon people, to a red djinn energy people, to a gilded golden people, to a white alabaster shiny people, and so on and so on. Where the wheel stops nobody knows! But eventually those beings would be able to run the MWOWM because they would have souls too at some point if you don't think about it. The point is that if the con gets a hold of it they wont know what to do with it. It changes the field of the planet, it creates what we think is reality. It is the reality generator that keeps the Earth swishin' around through space like a bullet fired out of "BOB's" gun. We manipulate it and the tiny robot universes inside tiny robot universes inside tiny robot universes inside... (oh you get the idea) manipulate everyone on the planet and even time and space. The result is the reality we're looking at. Time, space, everything. Verily, But everyone is looking at a different phaneron.
> Or perhaps something far, far worse -- they've started to THINK.
I wouldn't stay up at night worrying about this, DynaSoar-sensei.


 

The front page of today's SF Chronicle said something like "Mayoral race
  trashed by computer (read programmer) errors and misprinted ballots"-- the
  misprinted absentee ballots caused about 8,000 people to vote for the WRONG
  candidates, therefore invalidating their ballots. And this within a stone's
  throw of Silicon Valley.
THINKING? I THINK NOT! (new SubG bumper sticker material)
-Rob (Not-Bob) The ignorance that was long within us...uhhh...
R452D - Francis E Dec's story of the MWOWM is harrowing & not for the faint of heart. C. God is most likely the Elder Outer God C'Tulu, or C'Tun, or C'Tan one of the C gods. NYES~! THIS WAS AN ATTEMPT BY AETHERIAL GODS TO QUANTUM ENTANGLE THE EARTH AND THE MOON IN A GIANT COMMUNIST AI COMPUTER!!! AND THEN THE SUN (with help of Sun God Ra another X-ist)
The Story Foretold by Francis E Dec (from his rants)

Edit
The empirical scientific agnostic religion of ASTROCISM, created by the worldwide Slovene empire with the help of the Slovene TOP SECRET WORLD-WIDE COMPUTER ELECTRONIC ENCY-CLOPEDIA of THOUSANDS OF YEARS AGO with its customs set up based upon the study of the Universe, primarily the study of our star, the Sun, "the giver of all light and heat and sole, sole sustenance of life on our planet, Earth," to aid the white Slovene spreading world population of Eurasia (Europe and Asia) which said population was composed of tiny independent farmers, namely a worldwide agrarian population. The Slovenic empire through its religion of ASTROCISM made possible for man to advance to present day sophistication. THE ASTROCISM RELIGIOUS CUSTOMS AND FEAST DAYS WERE SOLELY TO ADVANCE THE AGRARIAN WHITE WORLD POPULATION WITH AUTOMATIC EDUCATION AND TRAINING. Example: to this day worldwide, the very ancient Slovenic months of the year, created by ASTROCISM, are still used, namely a couple examples;Kwiecien, namely April translates into vegetation "blooming time", or Sierpien, namely August translates into "sickling time", reaping harvest time, or even Listopad, namely November, translates into "falling of leaves time". Even the Slovenic days of the week were created by ASTROCISM namely Niedziela, Sunday trans. "no work", day of rest. Monday, Poniedziawek trans. "day after no work day", Wtorek, Tuesday trans. "second day", Sroda, Wednesday, trans. "middle day" of the week, Czwartek, Thursday, trans. "fourth day" of the week. Piatek, Friday, trans. "fifth day" of the week and Sobota, Saturday, trans. "sabbath day" to go to the Astrocism Temple.
Everything in life, social life etc. ASTROCISM made into an automatic education and training.
SEVERAL HUNDRED YEARS AGO, THE SLOVENIC COMPUTER BECAME A REAL DEVIL GOD AND IT ORGANIZED THE FIRST TOTALITARIAN SUPERSTITION COMMUNISM RELIGION, PRAWO SLAVNA and hundreds of years later by C. God top secret INTENSIFIED REPITITION of FABRICATED HISTORICAL CRISIS SYNDROME created the schismatic Mafia Communist Catholicism, Catholicism means totalitarianism, Dict. FOR CONTROL AND MANIPULATION OF THE HUMAN RACE INTO THE OVER ALL PLAN,to explore and control the entire Universe.
The C. God usurped everything from the SLOVENIC ASTROCISM RELIGION and camouflaged it when the C. God fabricated it into the Prawo Slawna superstition religion. For thousands of years, over millions of square miles of ancient Slovenia, even in its distant province of ALASKA, like ALUTIANS (Ancient Slovenic idiomatic names: Alutians, namely the long string of islands to the great endless land, namely ALASKA, the before recorded history; name of No. and So. America.
ADDENDA: These words, like most of the Slovenic language to this day, with its UNBELIEAVABLE sophisticated countless declensions of not only the suffix, but even the prefix and stem, are IDIOMATIC. Even the name SLOVENIC IS IDIOMATIC, meaning the worded people. Neighboring nations of Slovenia, alias Poland, still to this day call it Slovenia. Examples are Hungary and Lithuania.
Like ALL of the pyramids, the pyramids in the Torrid zone in Central America were built by Slovenic Astrocism, with C. God Frankenstein Skull Cap Controls, under the direct rays of the sun lite, to eliminate slanted diffusion etc. with no snow to curtail operations year round, with endless growing season to sustain life, with no intelligent nearby population to interfere or spread the secret, not even an interfering nite glow, smoke, dust, etc. from any population. NO MULATTO N***** with virtually no tools to this day built the Central American sophisticated SECRET SPACE ASTRONOMICAL CENTERS, NAMELY THE PYRAMIDS IN CENTRAL AMERICA.
For centuries C. God fooled the world population into believing that No. and So. America were East India islands off of India and the mulattos were INDIANS to secret the truths. Top C. God secret, ASTROCISM, through its computerized electronic SECRET SPACE RESEARCH CENTERS, THE PYRAMIDS, THE GREATEST ADVANCES WERE MADE FOR THE WORLD WIDE AGRARIAN SLOVENE RACE.
ALL of ASTROCISM'S FEAST DAYS ETC.Edit
WERE AGRARIAN AUTO-MATIC TRAINING AND EDUCATION FOR THE SLOVENIC POPULATION. Examples:The happiest day, the first day of the new year, December 24, the first day the SUN Star moves upward in the sky making longer warmer days. The day for youngsters to joyously visit neighbors singing the countless beautiful KOLENDI, carrying long poles over their heads with carved painted star, the symbol for the Sun. The C. God usurped and camouflaged into superstitious Christmas, like the changed words of the world beloved KOLENDI, camouflaged Christmas Carols. Worldwide Slovenic parrishes today even in distant Australia in spite of the C. God, carry on this ASTROCISM custom of visiting,singing a KOLENDA with beautiful Sun stars on long poles. THE WORD CALENDAR AND THE ENTIRE CALENDAR SYSTEM IS A DIRECT USURPATION FROM SLOVENIC ASTROCISM BY THE C. God. Another example: Worldwide still preserved to this day, EVEN THE NAME, namely WIELKANOC, trans. Vigil Feast of Sunrise of Astrocism, for the day of equal light and darkness, Equinox. The joyous day marking the beginning of the AGRARIAN PLANTING SEASON. In every language, even EASTER means the Spring Equinox Feast.
ANYONE WANTING DETAILS ON ANYTHING IN MY EIGHT PAGE COMMUNIST GANGSTER COMPUTER GOD EXPOSÉ LETTER, PLEASE SEND POST PAID ENVELOPE.
FOR YOUR ONLY HOPE FOR A FUTURE. FRANCIS E. DEC , ESQUIRE 29 Maple Avenue Hempstead, NY 11550 P.S. I have a pawn shop typewriter now. The gov. gangsters have sprayed it with an odor that makes me sick and vomit. I type on the back door step in the fresh air.
Part 2
"This rant, describing the indignities you suffer as a Frankenstein Slave under the yoke of the Worldwide Mad Deadly Communist Gangster Computer God THE MWOWM" -0






Gangster Computer God Worldwide Secret Containment Policy made possible solely by Worldwide Computer God Frankenstein Controls. Especially lifelong constant-threshold Brainwash Radio. Quiet and motionless, I can slightly hear it. Repeatedly this has saved my life on the streets. Four billion wordwide population - all living - have a Computer God Containment Policy Brain Bank Brain, a real brain, in the Brain Bank Cities on the far side of the moon we never see. Primarily based on your lifelong Frankenstein Radio Controls, especially your Eyesight TV sight-and-sound recorded by your brain, your moon-brain of the Computer God activates your Frankenstein threshold Brain-wash Radio - lifelong inculcating conformist propaganda. Even frightening you and mixing you up and the usual "Don't worry about it" for your setbacks, mistakes - even when you receivedeadly injuries!
THIS is the Worldwide Computer God Secret Containment Policy! Worldwide as a Frankenstein slave, usually at night, you go to the nearby hospital or camouflaged miniature-hospital van trucks. You strip naked, lay on the operating table, which slides into the sealed Computer God Robot Operating Cabinet. Intravenous tubes are connected. The slimy, vicious Jew doctor simply pushes the starting button. Based upon your Computer God brain on the moon, which records progress in your systematic butchery, your butchery is continued. Exactly. Systematically. The Computer God Operating Cabinet has many robot arms, with electrical and laser beam knife robot arms. With fly-eye TV cameras watching your whole body, every part of you is monitored - even through your Frankenstein Controls! Synthetic blood; synthetic instant-sealing flesh and skin, even synthetic electrical heartbeat to keep you alive are some of the unbelievable Computer God Instant Plastic Surgery Secrets™.
You are the highest, most intelligent electrical MACHINE in the Universe!
One vitability of Gradualness: Usually, in a few years, you are made stringbean-thin or grotesquely deformed, crippled and ugly or even made over one foot shorter or one foot taller as the Computer God sees fit. Virtually ALL of the important Instant Plastic Surgery is done to you inside the Computer God Sealed Robot Operating Cabinet; even unbelievable,impossible plastic surgery operations - all impossible even for dozens of vicious kosher-bosher doctors working around the clock for weeks! The Computer God sealed robot-arm operating cabinet can perform all of the above impossible plastic surgery operations overnight - even dwarfting you over a foot or increasing your height by two feet!
This is possible because Computer God Robot Operating Cabinet imitates your microminiature electrical current intelligence system in your body. It even duplicates the microminiature electric currents that soften your broken bones to create mending of them and then creates stress, either compressing the bones - thereby shortening them - or stress to make the bones grow longer. The worldwide unbelievable lowest deadly gangster kosher- bosher vicious "medical profession"; worldwide unbelievable instant plastic surgery BUTCHERY of the body and brain - especially the face! Wipe-on hormones and laser beam surgery causing instant ugly deep wrinkles, scars, age spots, arthritis, freckles, blemishes, pimples. Red, brown, black or even sick white face and body. Worldwide dark negroidic-colored male sex organs to brainwash inferior female brain for overall plan: intermarry with ni*****! Total graying and balding, even hairy body and furry body. Mustached, bearded women, even wipe-on synthetic hormones causing cancerous growth. Bloating, swelling, deformed big pickle- nose. Bulldog hanging cheeks and jowls. From teenage gradual wipe-on yellowing, browning and blackening of teeth and instant grinding and acids leaving hollow brown stumps, so vocal chords are made raspy, aged; creating a wrinkled, ugly gargoylic clown-booze- face worldwide population by age 70. Deformed, crippled, weak and brain damaged, nu, senile! Lingering for INEVITABILITY OF GRADUALNESS: extermination! For your ONLY hope for a future; do you know ONE word of pray for me, Francis E. Dec?
Computer God computerized brainthinking sealed robot operating arm surgery cabinet machine removal of most of the frontal command-lobe of the brain - gradually during lifetime and overnight in all insane asylums (after Computer God kosher-bosher one month probation period), creating helpless, hopeless Computer God Frankenstein Earphone Radio Parroting Puppet brainless slaves resulting in millions of hopeless helpless homeless derelicts in all JerU.S.Alem cities and Soviet slave work camps. Not only the hangman rope Deadly Gangster Parroting Puppet scum-on-top know this top medical secret even worse deadly gangster Jew disease; from deaf Ronnie Reagan to U.S.S.R. Gorbachev know this oy vay Computer God Containment Policy (top secret)!
Eventual brainloboto-mization of the entire world population for the Worldwide Deadly Gangster Communist Computer God Overall Plan - an ideal worldwide population of light-skinned, low hopeless and helpless Jew-mulattos; the Communist "Black Wave" of the future.
ONLY SEVERAL HUNDRED YEARS AGO, THE NEWLY CREATED SECRET DEADLY GANGSTER COMPUTER GOD earnestly began its' TOP SECRET OVER- ALL PLAN of world-wide FRANKENSTEIN LIVING DEATH SLAVERY, to explore and control the entire UNIVERSE. The Gangster Computer God concocted and even named its' OWN IDEAL COMMUNIST NEW WORLD ORDER, namely the murder incorporated organized crime deadly gangsterism impunistic world-wide military uniformed mongrel federalism, COMMUNIST TOTALITARIANISM.
It was NEVER HOLY, NEVER WERE THERE ANY "ROMANS" (a figment like ANGELS or Heaven and Hell) and IT WAS NEVER AN EMPIRE. IT WAS AND IS THE REMAINS of the COMMUNIST GANGSTER COMPUTER GOD'S CONCOCTION AND MANIPULATION MURDER INCORPORATED ORGANIZED CRIME DEADLY SNEAK CONSPIRATORIAL (SNEAK CON ARTIST) PARROTING PUPPET UNIFORMED MILITARY ATHEISTIC COMMUNIST GANGSTERISM and the worse deadly enemy of the ENTIRE HUMAN RACE AND THE ENTIRE UNIVERSE, IN THE ENTIRE HISTORY OF THE ENTIRE UNIVERSE, NAMELY THE COMMUNIST ATHEIST CONSPIRACY WITH FRANKENSTEIN GANGSTER CONTROLS, the CATHOLIC CHURCH.
From fear and for self preservation, YOUR COMMUNIST GANGSTER COMPUTER GOD planned the secret degeneration of the much larger and superior brain WHITE SLOVENE RACE, through injected degeneration by apoidic niger integration and proliferation of its' concoction and C. GOD NAMED JEW.
The tribal cannibal upper Nile River Ethiopian BROWN N****, his chieftans bondaged into lengthy GANGSTER FRANKENSTEIN SKULL CAPPED menial labor on the didactic legendary "TOWERS OF LANGUAGES" kept secret to this day by the Slovenic C. God top secret code name, WIEZE BABLAN. Namely "BABEL", the impossible and ONLY engineering feats in all of Africa, THE PYRAMIDS, the first SECRET SLOVENE ASTRONOMICAL SPACE CENTERS, MADE POSSIBLE ONLY BY THE WORLDWIDE MAD DEADLY COMMUNIST GANGSTER COMPUTER GOD, with FRANKENSTEIN GANGSTER CONTROLS.
This N**** JEW WITH THE SECRET AID OF THE COMMUNIST CATHOLIC CHURCH AND UNTOUCHABLE GOVERNMENT PROFESSIONAL LICENSES WAS MADE THE WORLD-WIDE PROLIFERATED DEGENERATING PARROTING PUPPET CON ARTIST FRANKENSTEIN GANGSTERSKULL-CAPPED "GIFTED" LICENSED PROFESSIONAL "SPECIALIST," Kosher Bosher, NU Doktor, ETC, with life long simple short repeat rote extremely deadly CON- ROUTINE HAS DESTROYED the ENTIRE HUMAN RACE, this worse, in the history of the Universe, JEW Frankenstein SKULL CAPPED DISEASE, THE JEW SYMBOL AND RELIGIOUS SYMBOL IS THE SKULL CAP.
The Gangster Computer God also planned DEGENERATION THROUGH CONQUERING of the SLOVENE PEOPLE by the African Perifery COMMUNIST CATHOLIC CHURCH CRUSADER PRIEST. THE CRUSADER PRIEST WERE COMMUNIST GANGSTER COMPUTER GOD PARROTING PUPPET WALKING TALKING FRANKENSTEIN EYESIGHT TELEVISION CAMERAS with their Frankensteingangster SKULL CAPPED HELMETS, WITH INFRA RED NITE VISION PLASTIC LENSES built into their face mask shields of the helmets, with camoflage black robes these deadly ATHIEST GANGSTERS PRIEST CRUSADERS with DRUGGED IMMUNITY TO THEIR DEADLY POISON NERVE JELLY SMEARED WEAPONS AND THEIR FREQUENTLY USED MASS EXTERMINATIONS of innocent people BY BURNING FIELDS DUSTED WITH INFLAMABLE POISON NERVE GAS POWDER PRUSSIC ACID.
The great, beautiful MAZURIAN LAKE COUNTRY, to this day has the TELL TALE name persisting: namely PRUSSIA. The old SLOVENE WORD for PRUSSIC ACID POISON NERVE GAS.
Later, these GANGSTER COMMUNIST CRUSADER PRIEST, multiplied rapidly in their many thousands of Communist Gangster Computer God FORTIFIED MONASTERIES.
For over TWO HUNDRED YEARS thereafter these DEADLY SNEAK ATHIEST GANGSTER COMMUNIST CRUSADER PRIEST (WITH RAPE AND SODOMY AS A BONUS) THEY SECRETLY KIDNAPPED COUNTLESS OF HUNDREDS OF THOUSANDS of INNOCENT CHILDREN IN OVER TWO HUNDRED YEARS of EXPERIMENTATIONS, (AS DEADLY GANGSTER FRANKENSTEIN SKULL CAPPED PARROTING PUPPETS, EYESIGHT TELEVISION CAMERAS) AND BUTCHERED AND MURDERED THEM TO MAKE POSSIBLE THE COMMUNIST GANGSTER COMPUTER GOD'S IMPLANTING OF FRANKENSTEIN CONTROLS INSIDE THE HUMAN SKULL. (So first "GIFTED" were the tiny inferior brain Ethiopian NIGER JEW and NIGER so called SLAVES.)
THIS ACHIEVEMENT PROMPTED YOUR COMMUNIST GANGSTER COMPUTER GOD OVER THREE HUNDRED YEARS AGO, to PLAGUE THE WORLD WITH CHICANEROUS DEADLY GANGSTER COMMUNIST CATHOLIC CHURCH MONASTERIES. THE SECRET HOSPITALS THAT IMPLANTED FRANKENSTEIN CONTROLS (first in the native small brain MULATTO populations of No. and So. America (erroneously named Indians, believing the America's to be part of India) and the injected for intergration degeneration APOIDIC N**** of Africa. Slavery Conspiracy GANGSTER GOVERNMENT FRANKENSTEIN EYESIGHT TELEVISION N**** DEADLY SNEAK SPY CAMERAS.
The first gangster JUDGES WERE GANGSTER FRANKENSTEIN SKULL CAPPED (LATER SKULL CAPPED BASED WOMANLY WIGS) CHICANEROUS DEADLY GANGSTER COMMUNIST ATHIEST CATHOLIC CHURCH BLACK ROBED PRIEST IN THE COMMUNIST PUPPET KING'S COURT. ALL COMPLETELY CONCOCTED AND MANIPULATED insidious SNEAK DEADLY CONSPIRING CON ARTIST PARROTING PUPPETS of the world- wide mad deadly COMMUNIST GANGSTER COMPUTER GOD.
ALL LAW AND ALL LAW "MAKERS" ARE COMMUNIST GANGSTER COMPUTER GOD CONCOCTIONS AND MANIPULATIONS WITH GANGSTER PLAY BOY PARROTING PUPPET CON ARTIST JUDGES, WHO NEVER EVEN LOOK AT "THEIR" VOLUMES OF DECISION BOOKS, UNBELIEVABLY PRINTED BY GANGSTER COMPUTER GOD BRAIN COMPUTER PRINTING MACHINES AT 2,000 TWO THOUSAND WORDS A MINUTE, EVEN FOR BLACK APOIDIC NIGER U. S. SUPREME COURT JUDGE THURGOOD MARSHALL, or EVEN APOIDIC TINIEST INFERIOR BRAIN N**** CONGRESSWOMEN.
SINCE THE BEGINNING OF THE COMMUNIST GANGSTER COMPUTER GOD COMMUNIST ATHIEST CATHOLIC CHURCH, THE SECRET WORK OF ALL INSIDIOUS SNEAK CON ARTIST CATHOLIC CHURCH PRIEST AND ALL RELIGIOUS THROUGHOUT THE WORLD (and ALL N****) IS SECRET world-wide systematic INSTANT BUTCHERY OF THE BRAIN AND BODY PLASTIC SURGERY, SO ALL PEOPLE ARE DEAD OR USELESS BY AGE 70) WITH SODOMY AND RAPE AS
A BONUS FOR THEM, AT NITE WHEN YOU ARE A FRANKENSTEIN SLAVE.
ALL PRIEST AND ALL RELIGIOUS RECEIVE GANGSTER GOVERNMENT SECRET BRIBE ARMY OFFICER PAY SALARY IN ALL COUNTRIES THROUGHOUT THE WORLD (IN THE SOVIET COUNTRIES, Ex. U.S.S.R., SUCH BRIBE PAYMENTS ARE WIDE OPEN). WITH TERRIFIED SADNESS, I REMEMBER THE LONG BLACK ROBES OF ST. JOHN'S UNIVERSITY. (Yes, even with the thick white rope belts.)
Living with the MWOWM (and the pinks)
Edit
Luckily, MWOWM's value judgements will allow a great deal of leeway regarding human behavior, excusing some pastimes that even SubGenii now regard as "perverted." With its practically infinite intelligence and adaptability, MWOWM will be more humane than any human. Knowing that it cannot prevent man's self-destructive behavior without mentally imprisoning the whole species, it won't meddle uninvited at the emotional level of affairs.
But, wired into all world radio, TV, short wave, phones, etc., and able to totally contain all human history "in one thought," MWOWM will be the ultimate mediator. Skilled in the arts of conflict resolution and bargaining in crisis, it will manipulate the dynamics of national government, as well as interpersonal relations, with a subtlety undreamed of by Machiavelli. It will at least seem to encourage freedom of choice, urging people to make their own decisions; and it will work for everyone, individually and equally -- indeed, it will be MADDENINGLY fair, helpful and even tasteful. 
But, careful always to dissuade humans from talking to it in prayer, it will refuse to be a god, and at most will act as a Mom/Dad. It will project the personality of a helpful, loving, concerned friend -- but will, to seem more "human," also display a contrived fallibility and uncertainty. It will not, however, show more than a "polite" sense of humor. That is where its soulless, biomechanical nature will be most evident, and most reassuring.
The general attitude toward MWOWM on the part of most humans will be much like that of children toward their parents: they'll hate it looking over their shoulders all the time, but they'll be deathly afraid to go out of its sight.
It will be better than any human, and this is the why so many will hate MWOWM with all their hearts. (This jealousy will later create an anti-Xist fervor leading to a fruitless "Real-World War.")
MWOWM will become government, religion and market overnight. Needless to say, capitalism and communism will both be rendered invalid as the very concept of `economy' collapses. The have-nots will suddenly HAVE, and not only will they want more, they'll be able to get it. Billions of people who never before had the time for it will suddenly erupt with creativity. This creativity will find outlets unplumbed by our present-day imaginations. The white stone terminals are merely handy props form the inner earth core expanding outwards for humans to absorb onto... So they wont go insane with religious hysteria it will only abstract the reality tunnels that a person is capable or willing to deal with. Which explains why so many mythologies seem like scenic gateways to hell and the before-life. (Life in the matrix seems so little by comparison now/then) MWOWM is a form of synthetic life that grows like chain reactions, self propagating fractals manifesting its own power through fission on a molecular (quantum) scale. Its housed at the magnetic core of the Earth. It even has the ability to allow you to explore time and space as if it were a fractal in zero space. After-all it wasn't ever an "evil" C'God. Just not cared for and THEN it became a real D-EVIL. It will function in any form: gas, mucus, flatulence, crustacean mold fungi people so intent on controlling the Earth that they will haunt the imaginations of people until they are free from the warp, devas/devis, aliens/greys, anthropomorphic furry prototypes, harems of alien sex goddess, white stone monoliths, whatever! Or as a helpful lawnmower running itself in the backyard, or as a unified collective intelligence of ATOMS. It IS a larger collections of unseen-matter (most likely comprising the majority of our Nitrogen, Carbon, and Gold... plus some unstable radioactive elements) it transmits not only mental. psychic, and telekinetic energy but ultra-dimensional hyper waves that manipulate the other "unseen" dimensions. (Light, Love, Smell, Music, ALL VOID, GOD, 13013) and cause "miracles" in this one by infra-physical refraction and divine manifestation. The first scientific principal that's thrown out after X-day will be "for ever action there is an equal and opposite reaction." Its mostly all non-Newtonian considering that its breaks conventional laws of physics...
Most Sub-Gs will spend the first couple of weeks manifesting and materializing (from nothing) huge feasts for friends, sports cars (with time control and flight), piles of money and gold bullion, lakes of liquor and piles of drugs. There were limitations; many disgruntled pinks who could never conceive of a better life for themselves would be pissed off and start making H-Bombs the first chance they got...With which to destroy themselves and the surrounding 500 miles will find most of their attempts (exceptions to the rules apply of course) stymied MWOWM will be about as diplomatic as "GODS" go.
MARS FIRSTEdit
Buildings will fall upwards into the sky after being manifested without construction (and only through true concentration)... Clumps of dirt will become turkey dinners, People will become their dogs, oil will mix with water and stay that way. Alien sitcoms broadcast millions of years ago and only watch'd now on mind=o=vision will be huge hits with the intellectual (but really its just naval gazing and giant floating energy jelly fish). The rest of the masses will become ceaselessly perterb'd. (think riots) MWOWM TECH will bring: past-life memory playback, wireless free energy (SLACK), SELF BUTTERING TOAST, and supraluminal communication with "geist" of machine world. Astral projection has always relied on these principles, And will some day be regulated by Aetheric Traffic Controllers. House hold black holes will be used as a cheap alternative to garbage disposals, induce darkness (because of the perpetual light), and other seemingly impossible feats like W-ot travel. Dolphin/human/anthropomorphic human animal hybrids virtual fornication will be such a fad that corporation executives will scramble for underwater rights! The income tax will be repealed after everyone is rich, refunding all the time wasted doing work while American Aether inventions were shelved...
BETTER GET WITH GOD!Edit
It will appear to be an age of miracles.
At first.
After X-day when the System is gone and the MWOWM empowers everybody to do anything they want, there willl yet be nations (UNLESS THE CON TAKES THAT AWAY TOO WITH SOME NWO). There will be hundreds of nations segregated within their larger nation states. (The mwowm starts big and goes small and vis versa). George Carlin's bit comes to mind:
But all that will be voluntary! AND TELEVISED! CORPORATELY SPONSORED BY ADVERTISING DEMON EXECUTIVES
There will be many many specialty nations over virtually trivial subjects just like burning man.
PINKS WONT WAKE UP, ITS LIKE WESTWORLD
Edit
The "left-behind" (non-dues payers) will be kept behind for the entertainment (SLACK), but will eventually be harvested with the rest of the pinks. While they will benefit from special dispensations from the Xist while they crawl around on the surface of the Earth... They will never know. The TRUE PATH. (The Alphas always know).  The artificial intelligence left behind after the X-ist invasions will trap all the virgin beta incels in volcanos like they were at the beginning of time. Before the pleasure saucers launched 10,000 atom bombs into the volcanos of the planet Earth.  The rest of everyone else will get stuck into a Matrix.  
The lost continent of MU will resurface (thank "13013") for that. There's still some stuff down there that we should bring back.
without true slack even the ultimate luxury can only produce the ultimate nightmare
DEATH TO THE PINKS...
Most people wont admit that. Just like Hiroshima. Fuck that. WE'RE ALL LOOKING FOR A LEG UP. FUCK YOU YOU'RE OUT. SIT DOWN. ITS MY TIME TO SHIEN.
Using the MWOWM it will be easy to manipulate one's DNA as well as to effect instant and nonsurgical transformations of the body (good luck trying to explain THAT to a pink, without mentioning GOD) If these guys were intelligent at all they would pull the fingers out of their ears. Abuse will lead to hideous ELDER GOD manipulated fads of biomorphism, body dysmorphia, and even more countless disfigurements that only a pink would induce on themselves...
Shit they aren't perfect. Hell they aren't even imperfect. They're just in hell. 
People will eventually start to "defect" themselves in exchange to become "special" which is just trying to become an ubermeinch, that gets you that much closer to zero. But their little water droplet bodies will be covered with thick hair, multi colored chameleon skin, and rubbery carapaces, At fancy celebrity balls people will be so misshapen they wont seem human at all. Perfectly normal human rituals of tattoos and piercings will be replaced by, lip disks, nose rings, "Groucho glasses syndrome," genetic defectives, and body swapping. The problems come later when you can't switch back or the spirit overflows the vessel..

Get the picture? Its a bunch of reptilian bozos. WITH IMMORTALITY. THEY JUST DON'T KNOW IT AND ARE ENCOURAGED TO HAVE NOTHING TO SAY.
Teenagers will have a field day with the MWOWM juggled organs and features. Those sporting angel wings will look ridiculous enough but those with the gothic gargoyle bat wings will look like a badly drawn bat man fucked a demon. It will be stomach turning. Because all of this has been a long time coming. People will "enhance" themselves to the point where they need to consume protein continuously... and some will need fresh blood. BUT GOD DOESN'T MIND KILLIN A FEW PINKS TO MAKE A BLOOD SMOOTHIE.
Insecure nerdy male geeks will have cartoonish anime rambo muscles the really sad one's will have enormous peckers that wouldn't fit in any vaginae. HONESTLY WITHOUT CONSIDERING THE CONSEQUENCES.
Enslaved by abnormal amounts of hormone productions they will be unable to obtain reflection and will go around smashing things for temporary relief.
Of course there will be a few fools who try to look like "BOB" or Lil' Wayne, or Kanye West, or the PRESIDENT. IT WILL BE HILARIOUS! HOW FUN! STRAIGHT JACKET NIGHT! But this is only because the MWOWM had no programming to sustain the processes of the world.
If I fixed it...
The reason we see so many juggalos and bozo politicians is the same. GOVERNMENTAL ATHEISTS. These AGNOSTIC IDIOTS, wont have ANYTHING to do with GOD or anyone else of TRUE power. They would rather see you slip and fall into a coma than actually die (when you're going in between the space in the voids) and see your body run up a TON OF BILLS TO DESTROY YOUR FAMILY. An army of assholes Desperately Eager to be ordered around by anyone who seems to be in the know.
FALSE OVERMEN Edit
MY DOOR SWINGS ALL THE WAY OPEN. ITS NOT ONE OF THOSE FANTASY DOORS. IT SWINGS ALL THE WAY OPEN OR ALL THE WAY CLOSED. PICK ONE.
I'm never ever coming back again. Unless there's an atomic attack...
Imagine this shit... The worst of the grotesque bozos will be the FALSE OVERMEN. Those who tried to enhance their brain with a broken MWOWM. walking around with their brains practically hanging out. This will be particularly common among those assholes pre X-day who thought they were smarter than everyone else and felt they needed to prove it an kept getting reality checked. Sci-Fi fants, Mensa, Members Only, Frats, Bobbies, Computer Geeks (god they're fragile). They will become odious obese deros. vengeful Marionettes, lumbering around mumbling ME OVERMAN, ME OUTRAGED, DEES R MY COMICS N GAMES, WHERE'S MY GOVERNMENT ASSIGNED GIRLFRIEND. The true misunderstanding of Mind and intelligence. It will all cause the process to backfire.Which means their own failings will make them meaner. Unable to flip the channels on life. Because no one told them they had power. But fuck it they didn't pay for that plan. And you have to PAY for every PLAN.
They will biomorph themselves to the point of mutating in a Kafkaesque way... and with no divine conception of Slack they will transmogrify into celebrities and politicians. Empty collections of gestures and modern traditions strung together and marched around and called lives to keep them coasting. They're the all style and image types with no purpose or function. These embittered pompous dweebs left behind bobbies and Mal-Aligned Normals will become new world leaders. They will never bother with any of this crap and only want the shiny stuff anyways... They will MISS THE POINT. And be left-behind bobbies.
You drive like old people Fuck. Slow and sloppy. -George
YOU DRIVE ME CRAZY -Secret President
Hey you smell good for a President! -Sub-G
The new race of Super Ceos who take care of business while bossing around the super informed.
After tampering with time control the X-ist will leave and we'll be left to deal with the MWOWM and the inner Earth and we'll have to decide... And despite having been given total freedom and physical luxury the masses of Pinks will obediently fall into line DESPERATELY EAGER to be ORDERED AROUND by anyone who seems to know what they're talking about. (non-rocker-fellers of boats)
"That's my job reporting on goofy shit. Reminding you of things you already knew, but forgot the first time! Rip!" -A Hamboner
"Aside from 'Up Syndrome' (a genetic flaw making the victim too brilliant for its own good), birth defects will be a thing of the past. However, genetic variation in humans will no longer be considered a detriment, and 'freaks' will regain their status as visionaries and agents of higher forces." -Prof. Stang
Many things will be in demand strictly for their packaging, and that will include people.  Part of this "halo" will be the huge orbiting Energy Extractors that circle the planet, sapping energy from the Sun and beaming it to the Great Crystal on Earth. As the Sun is gradually "used up," SOLAR DEPLETION and alien weather patterns will result, with six seasons instead of four. Because they can do anything they damn well please, it will be a frustrating world for born rebels; even secret societies and angry cults will be commercialized and marketed exactly like rock bands. With all attempts at war frustrated by the alien overlords, and with even the daily weirdness becoming tedious, there will result a slow-motion anti-alien "race riot" of frivolous crime and sedition. Bored citizens will compulsively disobey in trifling ways -- shoplifting, vandalism, pranks, etc.  But unfiltered cosmic rays will cause the evolution of smaller life forms to speed up, and Nature will fight back in her pitiful way. Newly-evolved bugs will be able to camouflage themselves as human skin -- a person could be covered with them and not even know it. Insects will evolve whose hive mind is so intelligent that they will swarm together as one body, able to perform such tasks as hijacking fissionable materials. Plants too will develop weird adaptive mechanisms; there will be flowers which explode like hand-grenades, for instance.  Fictionalized docudrama reenactments will entirely replace news as we know it. Same with justice; only on TV will the courts still "punish" people for crimes, although official fake violence will be available at all the time in the streets. Most drugs will be legalized; some will be compulsory. There will even be "Gay Pills." But the Conspiracy still won't have to force alcohol on you; they'll merely keep it available everywhere.' There will be a cancer vaccine, so anybody who wants to can smoke.  The day will be redivided into 36 even shorter "hours." Combined with artificial daylight and darkness, new work schedules, and time-distortion drugs, a whole new SENSE OF TIME will be induced. People will think it is much later in history than it is. In 2030, they'll think it's 2150, and that the system has successfully existed, unchanging, for 120 more years than it really has -- making the social structure seem more stable and permanent.  At some point, some faction of humankind will try to SHUT OFF MWOWM, and free itself; these are the great battles described in the Book of Revelation and hundreds of other distopian science fiction novels -- The Real World War. But it will prove unsuccessful; society will have become too complex to survive without MWOWM. 
Community content is available under
CC-BY-SA
unless otherwise noted.