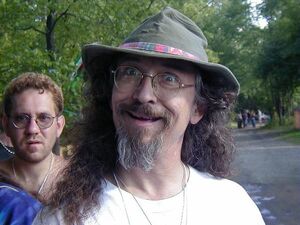 These are quotes by and about Rev. Ivan Stang, a revivalist of the original Church of the SubGenius (1953, revived in 1979) and co-founder of the SubGenius Foundation (1980).
Quotes by Stang
Edit
Quotes about Stang
Edit
Ivan can be very funny. And his mustache and beard tickle me in some very funny places.
Rev. Ivan Stang claims he was the first Bobbie. Bullshit. As a Prophet of "Bob" before the Birth of Dobbs, I was a Bobbie for decades before Stang started shitting his nappies.
Rev. Ivan Stang announced today his retirement from the SubGenius Foundation, citing his ill demeanor and declining patience with internal conflict among the members of the SubGenius Church, appointing long-time collaborator Dr.K'taden Legume to the position of President and CEO of the Foundation.
When Rev. Ivan Stang dies, the Satan of the Bible will die for the world forever.
Rev. Ivan Stang does NOT worship Satan. I think Satan worships him.

E.W.C. Haskell, Jr. (Charter member of the Church of the SubGenius)
Community content is available under
CC-BY-SA
unless otherwise noted.