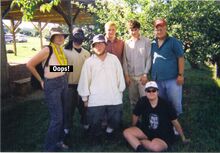 The Kentucky Boys Clench was founded in Owensboro, Kentucky in 2000.
It's founding members are Asquire, Rev Dr Lon, Rev. Justin Case, and Rev. Country Bumpkin.
It made three pilgrimages to Brushwood Folklore Center in Sherman, New York for X Day 4, X Day 5, and X Day 9.
Between X Day 4 & 5, The Kentucky Boys Documentary was produced by a NYC based clench.
The Clench was involved early in the Subgenius IRC chat community during the FEFnet Days and continues to be involved with The Taphouse Cabal.
Since his death in 2017, Rev. Justin Case has been venerated by the Clench as a saint.
Community content is available under
CC-BY-SA
unless otherwise noted.