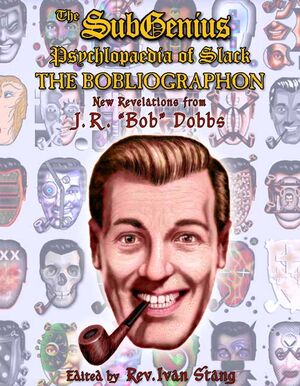 The Subgenius Psychlopaedia of Slack: The Bobliographon is the 3rd and (currently) last SubGenius holy book, the sequel to The Book of the SubGenius and Revelation X. Like the other holy books, it was a collaborative effort between J. R. "Bob" Dobbs, Rev. Ivan Stang, and many other SubGenius reverends. You can buy it legally or read it on Google Books.
Before it's publication, pages of the original draft were hung in various locations around Brushwood Folklore Center during X Day 5. There is some controversy in that some of these "preview" pages did not make it to the final draft. Asquire claims that Conspiracy publishers modified the final print draft to mask certain prophecies and confuse the lay Church - omissions of references to the Gay Teen Squid are cited in particular.
Community content is available under
CC-BY-SA
unless otherwise noted.