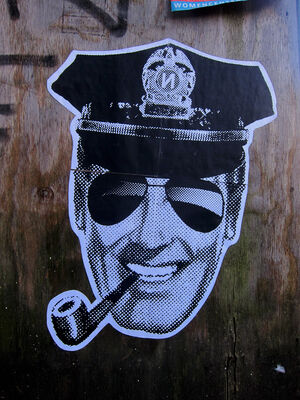 Members of the Church of the SubGenius, known as SubGenii, all take or are given titles. Here are a few of the most common titles used (there are MANY, MANY others in use by SubGenii):
Abbess
Abbot
Acolyte
Adept
Admiral
Agent
Amb. / Ambassador / Ambassadrix
Angel
Anti / Aunt
AntiPope
AntiPopess
Anti-Virgin
Apprentice
Archanchel
Archbishop
Archdeacon
Archdemon
Archdruid
Archduchess
Archduke
Astronaut / Cosmonaut
Ayatollah
Baron
Baroness
Big Boss
Bishop
Blessed
Bro / Brother
Bodhisattva
Boss
Caliph
Cantor
Cantrix
Cardinal
Catholicos
CEO / Chief Executive Officer
Chap / Chaplain
Chairman
Chancellor
Chancellrix
Chef
Chief / Chieftain
Colonel
Commander
Commander-in-chief
Commando
Commissioner
Comptroller
Conspiratrix
Consul
Corporal
Count
Countess
Czar / Tsar / Kaiser / Caesar
Czarina / Tsarina / Kaiserina / Caesarina
Dame
Deacon
Dean
Demigod
Demigoddess
Demon
Defender
Detective
Dictator
Dictatrix
Diva
Dominator
Dominatrix
Dr. / Doc / Doktor / Doctor / Doctrix
Druid
Duchess
Duke
Earl
Elder
Elector
Electrix
Emir
Emira
Emperor
Empress
Epoopt
Epopt
Esquire
Excremeditatrix
Executor
Executrix
Fairy
Father Superior
Friar
Führer
Gen. / General
General Secretary
God
Goddess
Godfather
Godmother
Gov. / Governor
Governor General
Grand Duchess
Grand Duke
Grand Inquisitor
Grand Inquisitrix
Grandmaster
Grand Mufti
Grand Vizier
Grand Witch
Grand Wizard
Guardian
Guru
HellPope
HellPopess
High Epoopt
High Epopt
High Priest
High Priestess
Holiness
Illuminatus
Imam
Imperial Witch
Imperial Wizard
Inquisitor
Inquisitor General
Inquisitrix
Inquisitrix General
IrRev. / IrReverend
Judge
Justice
King
Kommissar / Commissar
Komrade / Comrade
Lady
Lama / Llama
Leader
Lieutenant
Living Slack Master
Lord
Madam / Madame
Maestro
Mage / Magician
Magister
Magistra
Maharaja
Maharani
Mahatma
Mahdi
Maid / Maiden
Major
Majrix
Mama / Mother
Marchioness
Marquess
Marshal
Master
Mate / Matey
Matriarch
Mayor
Mayrix
Messiah
Minister
Miss
Missionary
Mistress
Monk
Monkey / Bonobo
Monsignor
Monsignorita
Mother Superior
M.P. / Member of Parliament
Mr. / Mister
Mrs. / Missus
Ms. / Miz
Mullah
Mufti
Ninja
Nun
Offender
Officer
Ordained Minister
Patriarch
Papa / Father
Pastor
Pharaoh
Pirate
P.M. / Prime Minister
Pontifex
Pontiff
Pope
Popess
Praetor
Preacher
Prefect
Prelate
Premier
Pres. / President
Presbyter
Priest
Priestess
Primate
Prince
Princess
Principal
Proconsul
Prof. / Professor
Prophet
Prophetess
Provost
Queen
Rabbi
Rector
Regent
Rep. / Representative / Congressman / Congresswoman
Rev. / Reverend
Sacred Scribe
Sage
Samurai
Sarge / Sergeant
Savior
Savirix
Scribe
Sec. / Secretary
Secretary General
Sen. / Senator
Shah
Sheikh / Shaikh
Shogun
ShorDurHus / Short Duration Husband
ShorDurPerSav / Short Duration Personal Savior
ShorDurWif / Short Duration Wife
Sir
Sis / Sister
Slack Master
Slack Mistress
SpacePope
SpacePopess
Speaker
Special Agent
Steward
Sultan
Sultana
Supreme Leader
St. / Saint
Unholiness
Unk / Uncle
Vicar
Vicereine
Viceroy
Viscount
Viscountess
Vizier
Warden
Warlock
Witch
Wizard
Yeti / Yetinsyny
Yogi
Zoltan
Zoltana
Typically, the average SubGenius starts out taking one of these titles when purchasing an ordainment, and then gradually adds more titles and is given more titles by others, until the list gets many times longer than the list above. And each list of titles is different. No 2 SubGenii can have the same list of titles, or one of them has to go. J. R. "Bob" Dobbs has accumulated the most titles of anyone, although he can't even remember ANY of them.
Community content is available under
CC-BY-SA
unless otherwise noted.