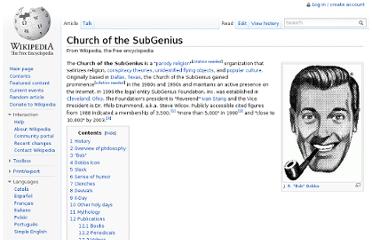 There are a variety of wikis on the Internet. For instance Wikipedia is the biggest wiki out there, while Wikia hosts a number of wikis, including this one. However, let us narrow the subject down further, and only focus on wikis that are somehow related to the Church of the SubGenius.
So... that is a total of 23 SubGenius-related wikis... and also, I can't count fnord.
So with that many SubGenius-related wikis, how come this one is needed? Look through the list more carefully. Then think. With your brain. No, not THAT brain. The OTHER one. Yeah, that's it, now you've got it!
But there is ALSO some SubGenius-related content on NON-SubGenius-related wikis as well, believe it or not. Here are some examples of pages on THIS wiki that ALSO appear on Wikipedia (albeit, the pages about them there are full of misinformation, bias, and lies, while the versions here are entirely truthful and well-documented):